SIGN (anime)
Jump to navigation
Jump to search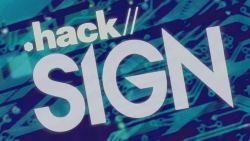 .hack//SIGN is an anime television series that aired in the Spring 2002 season.[1] 26 episodes were aired on television, while three additional episodes were released on DVD. It is the first anime released for the .hack series and was timed to release around the same time as the Games Quadrilogy as an introduction to the setting of project .hack.
Synopsis
Plot
 Is it a game? Or is it a world? .hack//SIGN the anime series…
 "The World" is immersive virtual gaming environment of the future. Millions of players log on each day to test their skills in virtual adventures and battles. But when reality and virtual reality collide, a whole new adventure unfolds.
 .hack//SIGN boasts character designs by famed illustrator Yoshiyuki Sadamoto (Neon Genesis Evangelion and Wings of Honneamise), an engaging and immersive storyline scripted by Kazunori Itō (Ghost in the Shell and Patlabor), and directed by Kōichi Mashimo (Noir and Irresponsible Captain Tylor).

Main articles: SIGN Episodes
Setting
Main articles: SIGN Setting
Characters
Main articles: SIGN Characters
Production
Staff
Main articles: SIGN Credits
.hack//SIGN was directed by Koichi Mashimo, the founder and CEO of Bee Train, the studio which produced the anime.[2] He also did Editing (off-line), screenplay, script, story board, and sound director work for .hack//SIGN. Bee Train also produced the Liminality, Gift, Dusk, and Roots anime. The score was composed by Yuki Kajiura. This was the second time she worked with Mashimo, after doing the score for Noir. She went on to do music for other Bee Train titles, including other .hack titles (Liminality OST, Opening theme for Roots and Ending theme for DUSK) as well as the "Girls with Guns" trilogy, made up of Noir, Madlax and El Cazador de la Bruja.
Media
References