Main Page
Jump to navigation
Jump to search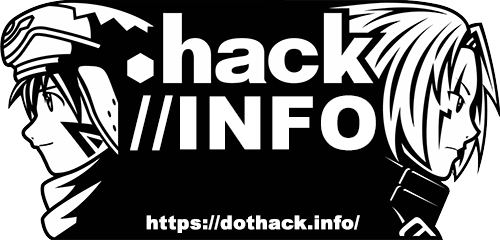 What is .hack// ?

.hack// is a massive multimedia franchise spanning from 2002 to 2017. The franchise was published as a light novel, manga, anime, video game, trading card game, toys, live events, soundtracks, webcomic, and so much more! .hack// consists of an alternate reality where a massive virus wiped out all operating systems around the real world except for one fictional one known as ALTIMIT OS. After the virus, ALTIMIT OS gained 100% of the market share for all computer systems around real the world in everyday applications and use from desktop computers, government systems, schools, phones, transportation networks, municipal and hospital systems. A company known as Cyber Connect Corporation, dubbed CC Corporation, used this to their advantage and produced many games, one notable called "The World". This was a fantasy MMORPG created by German programmer Harald Hoerwick, who sought to create an ultimate AI as a daughter between him and an author who wrote a poem Epitaph of Twilight. He loved the author who was named Emma Wieland who had previously died. Unbeknownst to CC Corporation at the time, this AI and a second AI that oversaw it's creation was secretly in the game and had far reaching capabilities to the ALTIMIT OS and the day to day operations in the real world. And the real mystery of how these capabilities would and could affect people in real life.

How has the series been released?

The franchise can be broken up into 3 major seasons.

Season 1

The first season ran between 2002-2004 with .hack//AI Buster, .hack//SIGN, .hack//ZERO, .hack//Another Birth, .hack//Infection, .hack//LIMINALITY, .hack//Mutation, .hack//Outbreak, .hack//Quarantine, and .hack//Legend of the Twilight.

Season 2

The second season ran between 2006-2008 with .hack//Alcor, .hack//CELL, .hack//Roots, .hack//G.U. Rebirth, .hack//G.U. Reminisce, .hack//G.U. Redemption, .hack//GnU, .hack//Returner, .hack//Trilogy, .hack//G.U. Ragtime, Innocent Call, .hack//G.U. Reconnection.

Season 3

The third and final season ran between 2010-2012 with .hack//LINK, .hack//Quantum i, .hack//Quantum, .hack//Bullet, .hack//Beyond the World, .hack//VERSUS, Thanatos Report.

What will become the future of .hack// ?

At this time there is no announcement of an upcoming .hack// entry within the series/franchise. The last released game was November 1st 2017, a Sony PlayStation 4 and Steam PC game called .hack//G.U. Last Recode, which was a remastered edition of the 3 volumes of .hack//G.U. from 2006 with a forth volume added to the remaster to add some additional content set within the season 2 of the franchise. But canonically, season 3 ended with Thanatos Report and this is the the last and current point in the series timeline. With other similar series being published with a trapped in a fantasy MMORPG genre, .hack// has been put on the backburner by the publisher BandaiNamco who has been pushing Sword Art Online along with other series to compete with. And the only means to show the publisher BandaiNamco Games of Japan and America that there is still interest in the .hack// cinematic universe would be to purchase more of this series either on the PlayStation Network, on Steam, and now on the Nintendo Switch.

The game retails for $49.99 USD in North America, however it has been known to drop low as $7.99 USD for sale pretty frequently. So be sure to pick it up then and buy it for yourself and buy it for a friend. Also check out Humble Bundle who is known for also selling the game for that low price as a Steam code.

In addition, contact BandaiNamco Games on social media is another means we can work together to show them there is still interest in the series by tagging them at @bnei876 @BandaiNamcoUS @BandaiNamcoUK @BandaiNamcoEU @BandaiNamco_jp @BandaiAmerica

Where can I go to learn more or find someone to talk with online?

We have a Discord chatroom at https://discord.gg/YkRJjQF. Check the pins, introduce yourself to the other fans of the series, and discover more about this multimedia franchise.

As of December 6, 2022 our 17 participating users have made a total of 100 articles. And you can help too by participating and practicing with the rest of them. To keep up with the Wikipeida changes, press Alt + Shift + R on your keyboard on any page within this Wiki to be taken to the Recent Changes page.

How to use this wiki

Find articles

Use the navigation menu or search box located on the left side of each page to find articles about the series and franchise.

Quick links:




Contribute articles

Dothack Wikipedia needs your help! Just login with your wikipedia account or contact Erroneous on our Discord server if you do not have one, and you'll be able to contribute new articles about the dothack series and/or improve existing ones.

Helpful links:

Report spam

Dothack Wikipedia takes numerous precautions against spam, but it still pops up from time to time. If you find spam in an article, or users who are spamming the wiki, please report the activity on our public Discord server. If you're not a registered wikipedia user, then you won't be able to login.